January 1969: the Beatles are in the Apple recording studio, on Savile Row, London. During the sessions that would lead to Let it Be – the song, album, film, and lawsuit – their conversation turns to what they've been watching on TV the night before.
Paul McCartney was diverted by a programme featuring John Rowles, whose debut single 'If I Only Had Time' hit No.3 in the UK charts almost a year earlier. He says to the other Beatles, "I took one look at John Rowles and it was, 'F--- the White Album. This is the real thing!' I memorised every Rowles song and went to Vegas and screamed right along with all those chicks."
But at that moment, Rowles wasn't heading to Vegas, yet. He was flying around the world to Kawerau, his hometown near the Kaingaroa forest. His song had stayed 18 weeks in the UK charts, and its follow-up 'Hush, Not a Word to Mary' had reached No.12. Rowles had recently been named the 1968 New Zealand Entertainer of the Year, and it was time to visit his parents and siblings. He was booked for a nine-day tour, climaxing with two triumphant concerts at the Bowl of Brooklands outdoor venue in New Plymouth.
A NZBC-TV documentary crew followed him during the visit and produced John Rowles, Ladies and Gentleman, a 26-minute cinema-verité film that's like a homespun version of Dylan's Don't Look Back. It shows Rowles fêted like a first-rank pop star. Still warming to his new status, he bemusedly interacts with his family, former neighbours, and New Zealand media.
As his Qantas flight landed at Auckland Airport, the reporters, TV cameramen and technicians waiting his arrival outnumbered the 15 fans. Rain was driving down as Rowles descended the airstairs, brandishing an Air New Zealand umbrella. In a Holden limousine he casually explains the concept of whānau to his UK musical director, Dougie Reece (borrowed from Dusty Springfield).
A press conference takes place at the White Heron Lodge, Parnell, and Rowles – with a trans-Atlantic accent – awkwardly answers questions. How did he feel when his single entered the Top 30? It was Rowles' 21st birthday, so he had a few drinks. And when it stalled at No.3? A few more, but he was quite happy about that achievement. Merv Smith of 2ZB asks about similarities to Englebert Humperdinck. "It started bothering me, I want to be known as myself."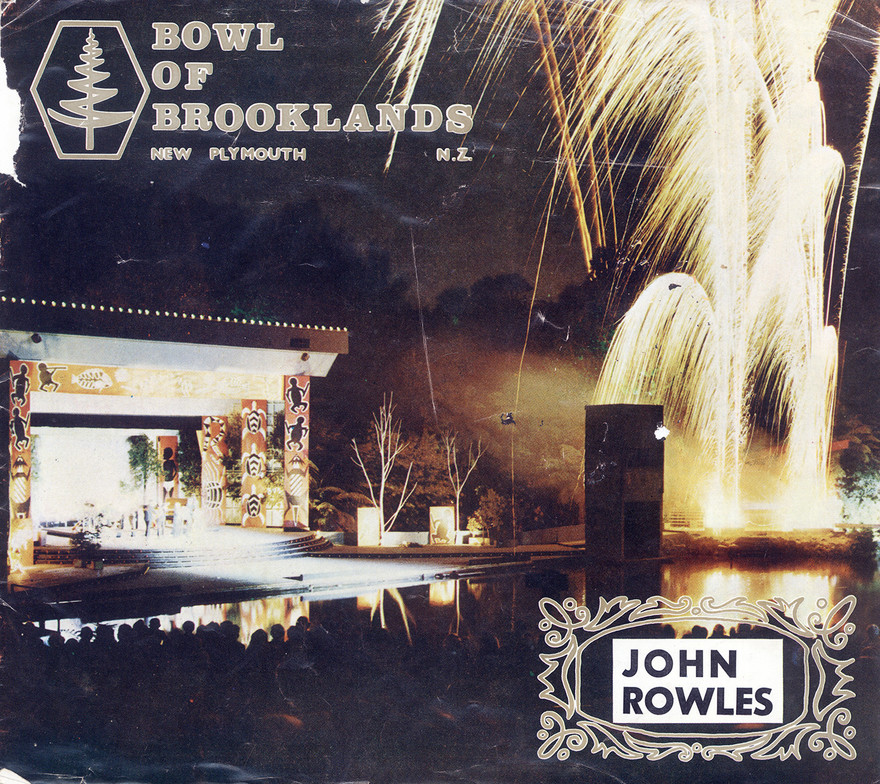 The NZ Herald describes him as "smoking a six-inch cigar and referring modestly to his luxury apartment and Mercedes car in London." His outfit: "A green suede jacket, tight green trousers, and pleated orange silk shirt." His belt buckle is gold, matching the medallion on his chest. "I bet I thought I was the coolest guy on the planet," reflected Rowles in his 2012 memoir.
Then to Radio Hauraki, where he tells original good-guy DJ Rick Grant that it feels great to be home. He shares his latest single, 'M'Lady' – another big ballad – and afterwards the documentary crew shoots a makeshift clip of the song, showing Rowles playing on the swings and merry-go-round at a local park.
Down to Kawerau, where a throng welcomes him to the small family home, and Rowles gives his mum a big hug for the cameras. "I've never been homesick for home," he tells the reporters, with some bravado, "though I often think about it. There's too much to do."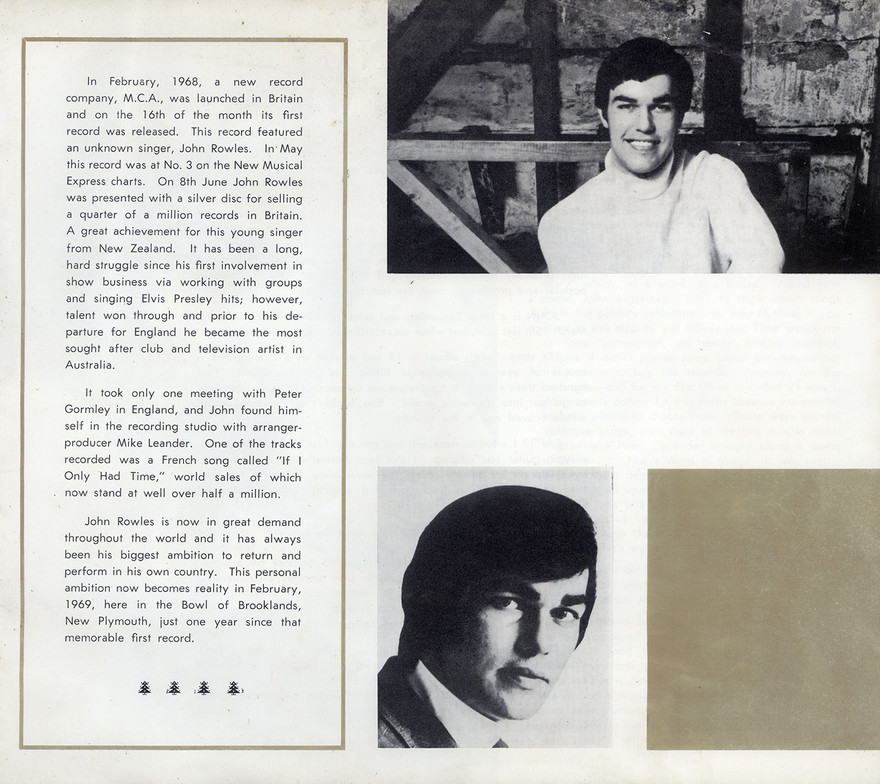 The people of Kawerau put on a reception at the Rautahi Hall; 1000 people attend, and enjoy a dance, and a hangi of kaimoana – just what Rowles wanted. The mayor says the town has "followed his progress with genuine delight." The cameras follow Rowles as he rides a horse through the streets, wearing a black silk shirt and smoking an ever-present cigar. He makes everyone wait while he sits in a car listening to a racing commentary. His horse comes in.
In his memoir, Rowles admits he "really played the part of a smalltown boy returning home after becoming a big shot on the world stage.
"Mum was super-proud, and you can see her in all the photographs of the formal welcomes in her best dress with her white gloves and high-heeled shoes. She normally hated the spotlight, but she didn't mind it on this occasion. Everywhere I went I was puffing on a big cigar, and I wore much more gold than the average man. There were plenty of parties back home in Kawerau, with up to 50 people crammed into Mum and Dad's little house drinking and listening to my stories about life in England and how my life had changed so dramatically."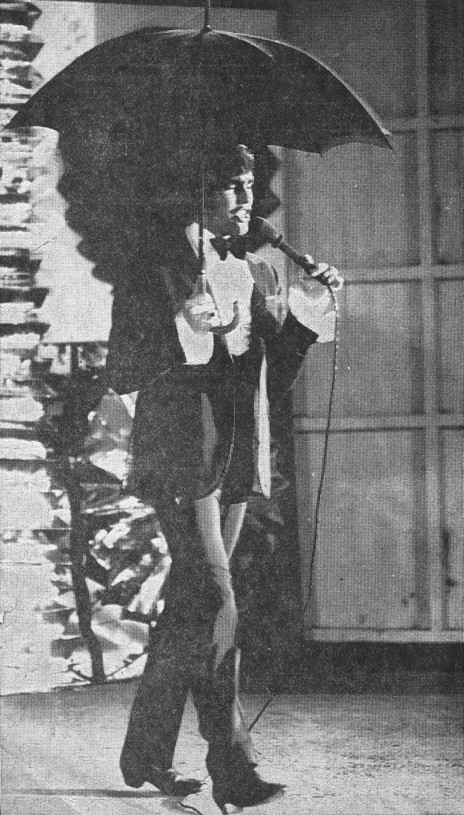 At the Bowl of Brooklands, Rowles once again needed an umbrella to keep the rain off his velvet threads. But the local reviewer was very impressed. "To hold the attention of some 5000 people in a steadily thickening drizzle requires no ordinary talent. John Rowles not only held them; he had his audience on Saturday night apparently ready to stay with him for as long as he was prepared to sing. For he can sing.
"In addition to the extravagant gestures and the flamboyant dress of the modern pop entertainer, he has a natural voice and a real sense of the lyrical flow of a tune. The sounds he makes are pleasant over a wide range, and when you add to that a secure sense of rhythm, his recent dramatic success is understandable."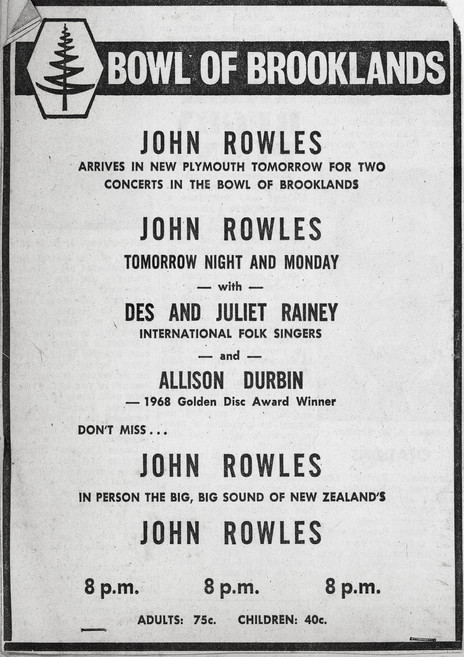 In an hour-long set he performed his own hits – 'If I Only Had Time' and 'Hush, Not a Word to Mary' – ballads such as 'I Believe' and 'By the Time I Get to Phoenix', plus a selection from West Side Story. The band may have been a bit subdued for some tastes, writes the reviewer, but was "just about the smoothest group of its kind I've heard here."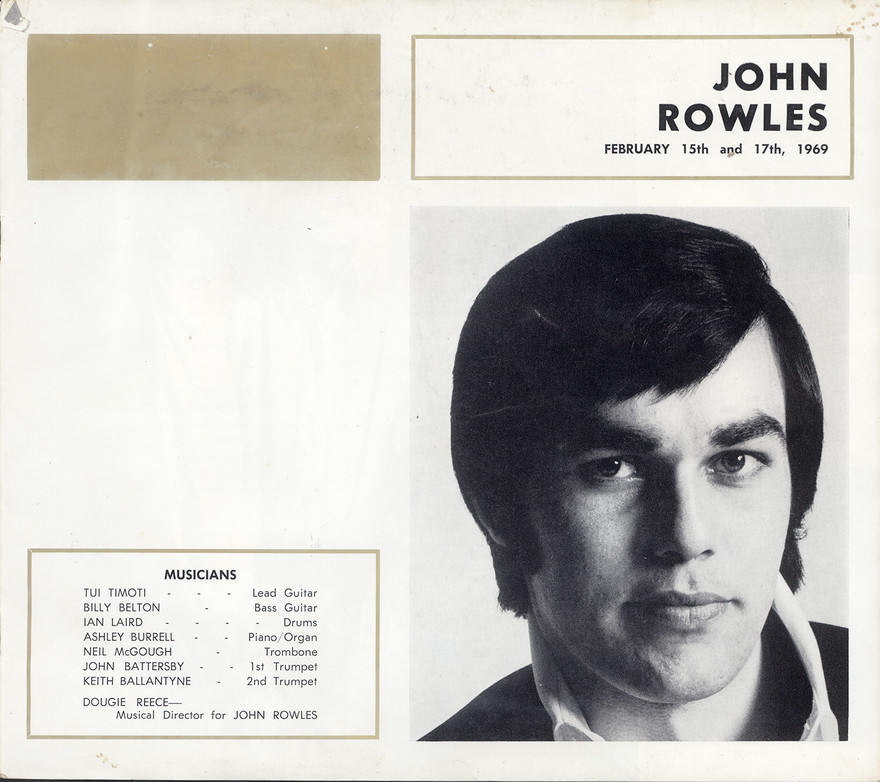 Backing Rowles were Tuhi Timoti on guitar, rhythm section Billy Belton and Ian Laird, keyboardist Ashley Burrell, and on brass Neil McGough, John Battersby and Keith Ballantyne. The support acts were folk duo Des and Juliet Rainey – tuneful, the reviewer reported, but perhaps too many songs for Rowles's impatient crowd – and Allison Durbin ("an athletic performance that left her little breath to sing").
During the tour, Rowles reflected later, his quips to reporters revealed his inner thoughts. "I don't know who I said this to: 'I believe in myself, that I have an inner talent, and when a spotlight appears, I just project that. I have this gust of energy when the spotlight is there. But when I am off stage, I just like to relax. I am two different people.'"